Buying and Selling Your Home
Buying or selling your home is one of the most important decisions you can make, but it can be stressful. Choosing the right conveyancing solicitor is vital. Our Conveyancers pride themselves on doing everything they can to ensure that once an offer has been accepted, the transaction is completed as quickly and as efficiently as possible.
Our Conveyancers in Brighton all live locally and have worked in the area for many years. Many of the properties in Brighton and Hove are listed, or are in conservation areas, and we know the issues that would be of concern to any purchaser. We also have a high level of expertise when it comes to leasehold properties, and the technicalities involved with this type of property. As you'd expect, we also have an excellent working relationship with local estate agents and managing agents.
Beyond this, we also undertake a large proportion of our conveyancing work in London and other areas in the South East and have developed an extensive overview of regional issues.
We are very proud of the service that we are able to offer our clients. You will be given the name, direct telephone number and direct email address for the conveyancer who will act for you so that you can always speak or correspond with the same person who is completely familiar with your transaction.
If you have any specific deadlines for completion, please advise us of this at your earliest opportunity. We shall make every effort to meet these deadlines, but please note that the average freehold transaction takes around 6-8 weeks to complete and the average leasehold transaction around 8-12 weeks.
We are here to make your move happen, so please call our Reception on 01273 249200 or click here for a free, no-obligation quote.
Awards & Accreditations – Conveyancing Quality Scheme
We are members of the Conveyancing Quality Scheme (CQS). This scheme provides a recognised quality standard for residential conveyancing practices. This gives us a level of credibility with regulators, lenders, insurers and consumers based on:
the integrity of our conveyancing staff
the firm's adherence to good practice management standards
prudent and efficient conveyancing procedures through the scheme protocol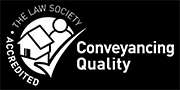 Our Conveyancing solicitors in Brighton deal with all aspects of buying and selling your home:
Buying and Selling
Our Conveyancers will check the title of the property, including the Land Registry Title Plan, to ensure it can be legally sold, draw up the contracts of sale, research and advise whether there are any restrictions on the use of the property, handle the deposit and final payment for the property and register the new ownership of the property with the Land Registry.
We will not only deal with relevant paperwork in connection with buying or selling a house, but will also provide informed advice as to how the sale or purchase of the property is progressing and will flag up potential problems or pitfalls.
Remortgaging
Our remortgage specialist Conveyancers take care of the necessary legal work on behalf of owners wanting to remortgage their property. Our Conveyancers take care of redeeming the mortgage and will confirm that the terms of the new mortgage are met. We are on the panel for all major lenders and if we are not on the panel for your lender, we will make an application to be placed on their panel so that we can accept your instruction.
Transfer of Ownership
Property owners may wish to change the legal ownership/status (transfer equity) of their property for a number of reasons. Whatever the reason for the transfer, what may appear to be a simple arrangement can be quite complex and legal advice should be sought. Our Conveyancers can take care of all of the legal work including the preparation of the transfer deed, notifying any parties with an interest in the property such as mortgage lenders (who must give formal consent to the transfer), assess whether stamp duty is payable and deal with the registration of the transfer at the Land Registry.
Right to Buy Purchases
Under the right to buy scheme, you are able to buy your home at a price lower than the full market value due to the length of time you have spent living at the property as a tenant. Once you have instructed our Conveyancers, we will ask for the paperwork from the council and review this. Our Conveyancer will then report to you on the property. The council will guarantee the title and therefore there are not many enquiries that would need to be raised. Our experienced team will provide you with a quick and cost effective transition in becoming a property owner.
Over the years I have been involved in the conveyancing of a number of properties and sad to say I have, more often than not, been profoundly disappointed with the speed, quality and efficiency of the solicitors I have employed. What a joy it was therefore when I chose Annie Fitzpatrick to help in the purchase of a property in Hove – a purchase that had to be completed in a short time frame and one with some unexpected complications – Annie has been superb, super fast, very efficient and thorough and a great pleasure to interact with – she is a great asset to your practice.
Special thanks you to Lucy who did an amazing job both selling my flat and with the purchase of my new home. She handled the process in a perfect way, always coming back to me quickly and with the information I required. I highly recommend Lucy!
Some years ago, Annie dealt with a property purchase for me and I was so astounded by her efficiency, skills and charm that I wrote to you 'singing her praise'. Since then Annie has acted for me a few times and yesterday she accomplished an exchange with her usual calm ultra efficiency – it was a complex sale (my home in East Sussex) with a somewhat difficult purchaser that had to be accomplished at very short notice – the pressure was immense. However, Annie triumphed yet again – she is a remarkable asset to your company and I would like to express (again) my thanks and admiration. Please be so kind as to share this appreciation with any senior partners who may be interested.