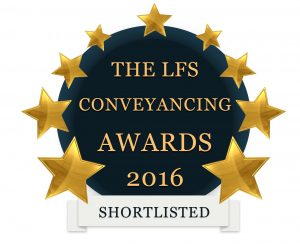 Dean Wilson are pleased to announce that we have been shortlisted in the 2016 LawFirmServices Conveyancing Awards for both Regional Conveyancing Firm of the Year, and Social Media/Marketing/Networking Firm of the Year.
Entry was based on a detailed application, an interview with the Judges about difference aspects of conveyancing, including our approach to fraud and technology and a mystery shopper.
From over 300 entrants nationwide, Dean Wilson are down to the final 4 entrants in both categories.
Siobhan Cox, Head of  Residential Property comments:
"We are delighted to have been recognised by LFS for our conveyancing services in this way.  It is testament to the hard work and effort  put in by all of the conveyancers here at Dean Wilson LLP and their commitment to provision of excellent customer service."
The winners of each category will be announced on the 14th September at a dedicated awards ceremony hosted by LFS Ltd in Birmingham.